Jean is old order Mennonite from New York State. Jean and her husband David and family live on a dairy farm, and travel their community using horse and buggy. She tells her story exclusively on Amish Stories.
Home To Thanksgiving: published in 1867 by Currier and Ives.
Happy Thanksgiving from Jean and her family
I thought, this time, I would answer some of the questions that I was asked starting with their clothing. Michael and Edward dress like most of the other children in public school, when they are at school or school activities. We don't want them to feel funny or not fit in. They wear slacks and shirts. Old Order Mennonite men wear jeans and shirts when working in the fields or casual at home. Both of the boys do dress in black slacks, jackets, hats and white shirts for our meetings (church services), when we go out together like shopping, dinner, etc.
From 1942:
Earl Landis and family saying grace before Thanksgiving dinner in Neffville,Pennsylvania.
When they went to New York City, we gave them the choice what to wear and the boys decided to dress Old Order Mennonite. They wanted to all look alike. David and I really appreciated it.
My health is much better, and we don't have our Maude anymore. David, Edward and Michael make sure I don't lift anything (I shouldn't lift or do anything I shouldn't do). I feel a lot better now that I did before the operation. Things are back to how they use to be. I thank you all for your prayers-they were really appreciated.
I may be repeating myself as I can't remember if I told we now have a new to us buggy. We sold our old one and got a two seater. This way we can all fit in with room to spare. We really enjoy it when our family go places together.
I really don't make judgment on the Amish or anyone else, but our church beliefs are different in shunning than the Amish. My opinion is that shunning a family as the Amish do would be more harm than good, but that is mine. I don't know if I could give up my family shunning their way.
Old Order Mennonite shunning is that if someone is found to be in a position that they be shunned-they can not attend communion meetings. We still call talk with them, have meals with them, live with them, etc. I am sure that the Deacons speak with them. We really don't have much shunning. Most of the time when the Deacons go and tell someone of a problem, it is taken care of. Again, this is my opinion, only.
Be With God. Jean
Roast Turkey with Eggplant Stuffing
Sprinkle both sides of the turkey breast lightly with salt and pepper. Peel the eggplant and slice 1/4" thick. Put eggplant, salt, onion, and water in a 2-quart saucepan. Cover and simmer about 8 minutes until tender. Drain and mash or puree in a blender. Mix with the 2 tablespoons butter, pepper, eggs, and bread crumbs. Turn into a buttered 1½ -quart casserole and sprinkle with the grated cheese, salt, and pepper. Arrange turkey breast on top of stuffing. Bake in a preheated 375° F. oven for 1 hour, basting the breast occasionally with the 1/4 cup of melted butter. Makes 4 servings.
1 (2-pound) turkey breast
Salt
Freshly ground black pepper Eggplant Stuffing:
1 medium eggplant (about 1 pound)
1½ teaspons salt
1 tablespoon finely chopped onion
1 cup water
2 tablespoons melted butter
¼ teaspoon freshly ground black pepper
2 eggs, beaten
½ cup dry bread crumbs
¾ cup grated Cheddar cheese
¼ cup melted butter for basting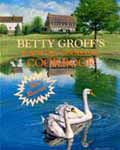 Betty Groffs newly revised and illustrated Country Goodness Cookbook is a virtual cornucopia of family recipes and home-spun anecdotes. This 326 page soft-cover edition has seasonal menus, common sense cooking, and microwave ideas. As an added bonus this book is autographed by the author.
Betty Groffs Country Goodness Cookbook.
To order Betty Groffs cook book go to www.Amishshop.com
Jean returns on Nov 26 after a Thanksgiving break