My Special Meat Loaf
Boil the eggs for 10 minutes. Cool under running water and peel. Set aside. Mix all other ingredients thoroughly and divide in 2 parts. Place first half in baking pan, forming into bottom half of meat loaf. Place hard-boiled eggs end to end in middle. Cover with remaining half. Bake in a 375° F. oven for 1 hour and 15 minutes. Garnish with watercress.

Serves 4-6

6 hard-boiled quail or 4 small chicken eggs
1/2 lb. hamburger
1/2 lb. ground veal
2 eggs, beaten
1 T. chopped parsley
1/2 c. chopped tomatoes
1 T. salt
several dashes freshly ground pepper
1/2 c. milk
1 stalk chopped celery
1 c. bread crumbs
watercress for garnish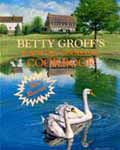 Betty Groffs newly revised and illustrated Country Goodness Cookbook is a virtual cornucopia of family recipes and home-spun anecdotes. This 326 page soft-cover edition has seasonal menus, common sense cooking, and microwave ideas. As an added bonus this book is autographed by the author.
Betty Groffs Country Goodness Cookbook.
Combine milk, sugar, salt, and shortening; cool. Stir in yeast. Add 2 c. flour. Beat in eggs and add remaining flour. Let rise twice. Bake for 20 minutes. Do not over-bake.

3 c. hot milk
1/2 c. sugar
1 T. salt
5 T. shortening
3 eggs
2 T. yeast
7 c. flour
Fix up your favorite meal and enjoy the beauty of quilts at the same time with the new Amish Quilting Cookbook. Its 130 pages are packed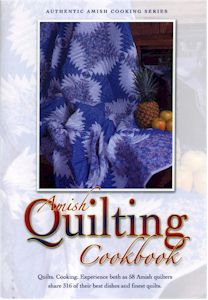 with 316 favorite recipes from 58 of Lone Star Quilt Shop's quilters. Twenty of their finest quilts are featured in color throughout the book. The book is wrapped in a concealed spiral binding to help avoid spiral tangles while it keeps all the conveniences of traditional spiral. Fourteen sections from Amish wedding foods to snacks. 136 pages. To buy these two cook books just go to www.Amishshop.com to order yours!